Random Timers is Here!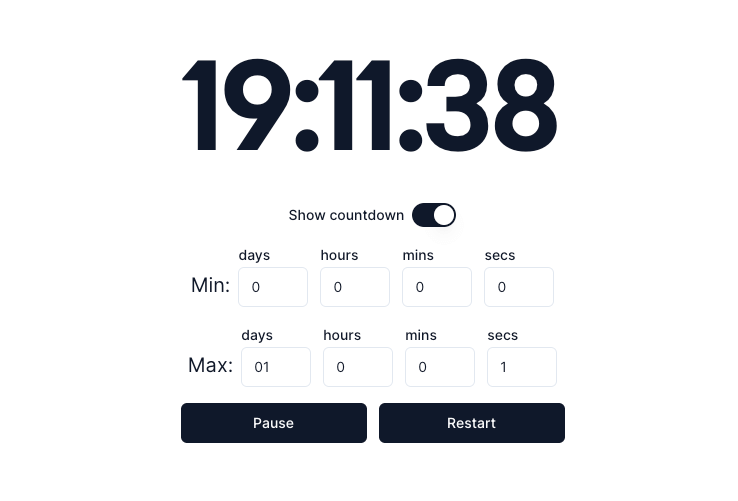 This free online timer is designed to add an element of fun and surprise to your daily activities like studying, teaching, playing hot potato, exercising, and more. Whatever it is, our Random Timer has you covered.
So what is the Random Timer?
The Random Timer allows you to set a custom time range (minimum and maximum time) and select your countdown by days, hours, minutes, and seconds. Once you set your timer and click start, a random number will be generated to start the countdown. When the countdown finishes, you'll be notified by an alarm sound. It is the perfect tool to inject some spontaneity and fun into your routine.
How does it work?
Using the Random Timer is incredibly easy! Here's how you can get started:
Set the Time Range: First, define the time range within which you want the countdown to occur. You can specify the minimum and maximum durations according to your preference.

Let the Randomness Begin!: Once you've configured the timer, simply hit the start button, and the Random Timer will take it from there. You'll hear an alarm once the countdown ends.
Why Use the Random Timer?
Beat Procrastination: Procrastination is a common challenge for many of us. With the Random Timer, you can randomize how your focus time and make working on your tasks more fun. Stay focused and motivated as you tackle your tasks head-on.

Enhanced Creativity: Unplanned breaks or creative timeouts can lead to innovative ideas and solutions. Let the Random Timer inspire you with moments of rejuvenation that can fuel your creativity.

Break the Monotony: Repetitive tasks can quickly become tiresome. Allow the Random Timer to add an exciting twist to your routines and make mundane tasks more enjoyable.

Stay Active and Energized: For those who spend long hours at a desk or working on projects, the Random Timer can remind you to stretch, take a walk, or do some quick exercises. Keeping your body active helps boost productivity and overall well-being.
Ready to use the Random Timer?
Visit our website randomtimers.com today to explore this exciting new feature and put some fun and spontaneity in your life!
Happy randomizing!
Have feedback for us? Make sure you send us feedback on how we can improve the Random Timer.
---